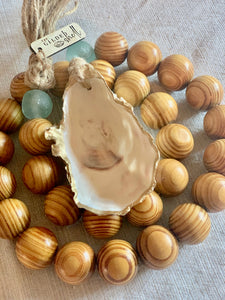 The Chunky Coastline is the largest and longest style in the Nude Beach collection -- each end is finished with a large piece of recycled African sea glass and a single 18k gold gilded oyster shell and hand-crafted tassel tie the look together.
This long and oversized piece offers great versatility when displaying it in your home. It can simply serve as decor on your coffee or entry table, a centerpiece on your dining table, garland or even serve as a curtain tie.
Bead Size: 35mm/Approx 2", Handcrafted off of the Florida and Virginia Coast, each piece and shell is unique and may vary slightly from photo.